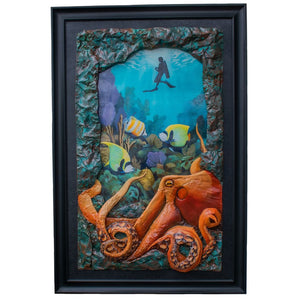 Ransom Studios
3D PAINTED COPPER
Regular price
$2,500.00
$0.00
Unit price
per
BASE PRICE: $2,500.00 

What's included: The base price is the starting price for all 3D painted copper commissions. This price includes a $500.00 non-refundable installment fee which reserves Kat's next available date for commission completion and is structured to cover the time invested in designing your custom painting. An estimated shipping fee is calculated at checkout, however, each commission is different and may result in additional shipping fees. 

What's not included: The base price does NOT include additional costs incurred due to commission size, design complexity, additional concept revisions, change orders and/or shipping charges.
If we expect your project is subject to any additional charges outside the base price, an estimate will be provided and written consent is required prior to proceeding.
We believe in full transparency and working together to bring your vision to life, therefore estimates are always provided and final balances are never a surprise. 
About the art:
Kat cuts, molds and solders every piece of copper by hand to create a 3-dimensional depiction of the collector's vision. With special consideration to overall weight distribution and solder joint pressure, every piece is crafted to ensure its structural integrity will last for generations.
Using her own unique recipe of both natural and synthetic ingredients, Kat creates a variety of beautifully colored patinas through expedited oxidization of copper within each painting. While every recipe is carefully selected to produce a patina color that compliments the subjects within the painting, the oxidization process is natural, therefore no two patinas are the same. In its final stages, a frame is handcrafted for permanent fixation to the copper painting, preserving the integrity of the soldered joints throughout the piece and to ease in the installation of the art.

A custom copper painting will greatly enhance the inside view of your home, den, or office space. While every piece is sealed for protection against natural copper oxidization and aging, we recommend following the care instructions provided to optimize its preservation. We cannot guarantee the integrity of Kat's copper paintings after long-term exposure to the elements. Take special consideration before hanging your piece in areas with direct sunlight or extreme temperature changes. 
Special care instructions can be found here. 
(Questions?  Contact Kat@Ransomstudiosart.com.)  
Your copper painting commission will be constructed to the specific shape and dimensions you request.  Pricing for custom copper paintings start at the price listed, and may increase depending on the overall size and complexity of the design. 
The difference in price will be billed to you after all details are gathered. The piece will be constructed and painted for you, by Kat, using her favorite materials and brands of acrylic paint. 
This is how Kat works with Commissions: After you place your order and pay for it, please email details of what you want painted.  
(Send to kat@ransomstudiosart.com).    
TIMING:  Depends on Kat's travel schedule and other projects already in the works.  
Since every copper piece is built from scratch, Kat will take the time to properly cut, mold and solder the copper by hand, before beginning the oxidization process. Oxidization must be complete before she can even begin painting. A copper commission takes approx. 4-8 weeks.  
(We can accommodate rush-requests for an additional fee).    
Once all of your information is received, Kat will work up a sketch and email it to you for your input or approval.  Your price includes up to 2 sets of sketch changes.  The sketch process is fun and Kat usually nails your vision on the first sketch. 
Keep in mind:  Kat chooses to paint in her own style, and she will not duplicate (copy) anyone else's art.  However, she will take your desired theme or subject and apply her own spin to it. 
If you have any questions please contact Kat at kat@ransomstudiosart.com.  She is happy to answer all of your questions!  

*SHIPPING:  Kat personally packages every original painting to her satisfaction. We ensure your fine-art painting will be thoroughly protected during transport to you. Delivery will be made to your door.  The shipping charged in this shopping cart may be less than the actual cost.  Please note that if it's more, we will require additional payment prior to shipping.  With original paintings, it's difficult to determine actual shipping costs until after we have it packaged up and ready to go.  
*COPYRIGHTS:  Please note that Kat Geesaman retains ownership to the copyrights to all of her original paintings.  Commercial duplication of Kat Geesaman's art must be licensed by Kat in a formal Licensing Agreement.  However, feel free to share photos of your commissioned piece online, via social media, in non-commercial usage, anytime!
---
Share this Product
---